Visit our store for items including t shirts, stuffed animals, maple syrup, wool roving, yarn and meat products. Our animals are raised naturally and are antibiotic and hormone free. Managed grazing is healthy for the animals and provides nutritious antioxidants.

All proceeds benefit the ministry of Harvest Home Farm.
Grass Fed Ground Beef
$5.50/lb
1 lb packages
Available at the farm
Lamb Brats
$10.00 per pack (6 brats/pack)
Packer Backer
Available at the farm
Pastured Chicken
$3.50/lb
Whole chickens range from 5-7 lbs
Available at the farm
Pure Maple Syrup
$10.00 pint
$18.00 quart
Currently out of stock
---
RESOURCES
All We Like Sheep

Larry Guthrie & Robert Newhouse

A family table top book containing twenty lessons every parent needs to teach their children. Filled with vibrant photos, character definitions, stories from the farm, and in-depth biblical applications, "All We Like Sheep" will benefit any family devotional time.
$25.00
Available at the farm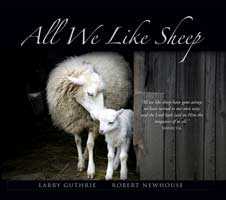 General Store - Harvest Home Farm